Who are you?
I'm an exponential thinker, innovator, serial tech entrepreneur, business angel investor, trusted advisor, public speaker, author, and mentor. I have successfully founded, co-founded, or participated in the launch of multiple companies that created hundreds of jobs and generated multimillions in revenue. 
I am the creator of the Superpreneur Blueprint framework and I have developed a set of cutting-edge strategies and tactics that enable super-entrepreneurs to materialize crazy ideas, build breakthrough ventures, and solve the world's biggest problems. After helping more than 100 companies excel in their fields, I decided to make this proven methodology publicly available in Super-Entrepreneurship Decoded to help super-entrepreneurs everywhere transform their lives—and the planet.
What is Super-Entrepreneurship Decoded?
All across the planet, entrepreneurs and innovators are actively working to solve humanity's toughest problems. My book is about them, they are super-achievers, innovators, inventors, trailblazers, and game-changers ::: they dream of making the world a better place through crazy ideas and they want to get extraordinary results.
Super-Entrepreneurship Decoded shows step by step how to make that dream a reality, from tackling an insurmountable problem to creating the kind of breakthrough business that can fix it.
I describe the Age of Exponential Acceleration, in which super-entrepreneurs have become motivated to act boldly in solving the world's biggest problems. And I decode the five secrets of the top super-achievers who are changing the way we travel, eat, work, and simply go about our daily lives.
By applying the unique method presented in Super-Entrepreneurship Decoded, the reader can materialize her dreams, build her own future, and achieve anything she wants in life.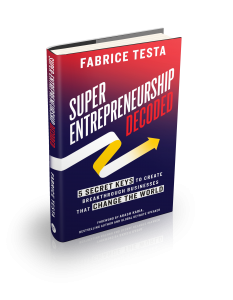 How is Super-Entrepreneurship different from regular entrepreneurship?
Super-entrepreneurship is bold, audacious entrepreneurship carried out by entrepreneurs, innovators and game-changers who want to solve big problems with unconventional or crazy ideas. We entered the age of exponential acceleration in 2007.  The world is globally getting better, and while we have seen an exponential growth of many technologies like artificial intelligence, 3-D printing, genomics, blockchain, sensors, robotics, and energy, humanity's problems are also accelerating exponentially, posing more and more challenges of extraordinary complexity.  Today, because many technologies have achieved a good level of maturity, entrepreneurs have incredible tools to build novel solutions to some big problems.  Conventional solutions have demonstrated their limits.  The thesis of super-entrepreneurship and of my book is that we need now radical solutions.
As a business angel investor, what lets you know an idea will be world-changing?
World-changing ideas have 3 components. First of all, that idea has the potential for solving a huge problem, typically it can impact the daily life of 1 billion people minimum.  Then, the idea is using one or more breakthrough technologies like artificial intelligence, 3-D printing, genomics, blockchain, sensors, robotics, and energy to build some terrific solution.  Finally, it's a radical solution.  It was never done as such before.  It's a new way to approach the problem.
Who are the super-entrepreneurs, changing the way we do things in our daily lives?
Super-entrepreneurs or superpreneurs are entrepreneurs, innovators, inventors, game-changers, trailblazers.  They do not accept the status quo. They want to build a better world.  They want to change our daily lives.  They want to create their own future.  As I always say they want to build the world they love.   So, they tackle big problems, like energy, food, water, transport, health, with bold radical ideas, what I call crazy ideas.  They attract the resources they need to materialize their dream, and ultimately, they create a breakthrough venture that change the world!  In the book, I also describe other super-achievers like sport athletes, artists, coaches that are also exhibiting similar traits of super-entrepreneurs.
How did you discover and then compile the five secrets you write about in your book?
I'm now in business since more than 30 years.  I have founded and co-founded many companies. I have also mentored and coached over 100 founders.  Moreover, I read a lot, I'm really passionate about entrepreneurs and entrepreneurship.  The five secrets I have decoded in my book are the result of all those many years of observation and of doing myself.
How can entrepreneurs ensure that they're staying profitable while trying to save the world?
That's not easy because most of the companies I describe in my book are deep-tech ventures.  Deep technology or deep tech is a particular type of early-stage companies or startups developing solutions requiring long research and development and large capital investment before commercialization.  This means that viability can take many years.
That's why I suggest in my book to look at some form of short-term reward.  Super-entrepreneurs must keep in mind the long-lasting impact on the long term, but they need also to provide some form of reward on the short-term.
Reviews
 "This is truly a must-read for all those who believe that entrepreneurship is key to the sustainability of humanity, our planet, and our universe."
—Candace Johnson, Founder/Co-Founder of SES, Loral Telport Europe, Europe Online, Global Telecom Women's Network, OWNSAT-Oceania Women's Network Satellite and critical player in bringing about Iridium and ILS
"Fabrice Testa's book is a masterpiece for every entrepreneur and a game-changer to create radical breakthroughs.''
—Baybars Altuntas, Chairman of World Business Angels Investment
Forum (WBAF), entrepreneur, bestselling author, TV star, and celebrated investor
"Testa's book is a must-read for entrepreneurs, innovators, and change-makers to materialize their dreams and develop outstanding business.''
—Dr Ingrid Vasiliu-Feltes, futurist, innovator, and global ambassador, Top 100 Finance Leaders Award 2020 and Top 100 Healthcare Leaders IFAH 2020
"Fabrice Testa's groundbreaking book is an important how-to guide for every entrepreneur and innovator who wants to create a meaningful impact on society by solving the world's biggest problems."
—Roger Collantes, Founder and CEO of the Asian Institute of Digital Transformation; Co-Founder and CEO of the School of Agility, Grit and Entrepreneurship; bestselling author
"Testa did a superb job of telling us stories about super-entrepreneurs who are changing the world'''
—Craig Terblanche, Chief Entrepreneur at Exofutures