Angel Financing in Asia Pacific is the first book to take a telescope, and then a microscope, to Angel investing in Asia. Author John Y. Lo, an experienced Hong Kong lawyer and Angel Investor, looks at Asia Pacific and its place in the global Angel Investing scene, and then looks at major markets in the region.
His Asia stretches from Japan in the north east, south to New Zealand and west to India. Mr Lo's prose dominates the text, but he pens only the Hong Kong and China country specific chapters, with in-market experts contributing for their regions. His 'collaborators' – editors and cowriters on some elements of the book – are Patrick Mooney (Accelerating Commercialisation and Impact Tech Ventures, Australia) and Professor Po Chi Wu of The Hong Kong University of Science and Technology.
The books aims to serve practitioners – all practitioners. This includes experienced Angel Investors seeking to spread their wings in the region, as well as those with funds looking to earn their wings as Angels. There is even something for policy makers seeking to improve the likelihood of having more Angels walk among us, generating jobs and spurring innovation at home.
The book is clearly delineated into four parts, making it easy for readers to quickly structure their reading to suit their needs – a sign of thoughtful editing and structuring. The opening overview of regional themes is short and should be read by all. The challenges of traditional thinking; the immaturity of legal and regulatory environments; multiple jurisdiction holdings across small, varied markets; and a lack of exit vehicles all sound daunting. However, the scene is improving rapidly in many markets, suggesting that it may be time to start paddling into the wave – building to surf into a profitable Angel Investing future in Asia.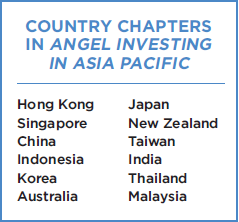 FOCUS: HONG KONG
John Y. Lo has been in the Hong Kong business scene for over 20 years, and is well placed to evaluate the Angel ecosystem in both Hong Kong and China. First, Mr Lo correctly identifies the relative ease of becoming established in the city. While the 'Angel culture' is fairly undeveloped, Hong Kongers are making up for lost time with a bewildering of private and public networks springing up. Many have formed independently, while others are coalescing around accelerators or are in partnership with government bodies and quangos who are enthusiastically backing events, fostering tech startup 'ecosystems' and co-investing with approved investors. A strong rule of law; a sophisticated, entrepreneurial business and professional class with access to a free flow of people (working visas take less than six weeks to approve normally); and an abundance of capital means that international Angel Investors can connect easily to the local scene. Lacking a major consumer market, however, the underlying investment opportunities may not produce many home runs (to use American parlance) – unless they use Hong Kong as a fundraising base while their product or service targets bigger markets. Furthermore, another quirk of Hong Kong which distinguishes it from its Asian neighbours is that equity crowdfunding is verboten, with no likelihood of regulators opening this door to source economic growth.
THE WORLD'S SECOND BIGGEST ECONOMY: CHINA
Anyone reading the China chapter is well served with a surprisingly concise and relevant economic history of China, which segues naturally into its Angel Investment development and unusually vibrant scene. Those entering the market will have a good overview of the current state of play and how they can – and cannot – plug into it. The chapter does not shy away from the many challenges of China for the outside investor looking in. Some of the challenges are those faced by any investor – trust issues being at the top of the list. However, the mutability and complexity of regulations poses an extra challenge to Angel Investors – where determining an appropriate investment structure, compliance and the necessary due diligence can become extreme given the size of investments involved. While rewards may be high in the developing market, challenges for those coming in fresh may be daunting for Angel Investors lacking trusted partners with the inside China edge. Angel Investors of this ilk do exist, but most have been in-country for many years – decades even.
OTHER REGIONS
Other chapters do bear the distinctive styles of writing that differentiate them from the main author and his collaborators. Korea is noted for its more insular nature, but it is tempered by the opportunity to partner with returnees and global players (like Google and Facebook) attracted by the advanced level of technology and consumer adoption. A destination where investors can "glimpse a future where the most ambitious dreams of Silicon Valley have already been realised." Incubators, like Gangnam's D.CAMP for example, connect thousands of startups with investment and have several programmes to connect to international investment.
"Why Asia? The answer? Change, growth, scale, resources (people), momentum, global markets and
wealth – specifically Asian wealth and where it will go."
Japan seems especially hard to plug in, given a traditional, secretive culture and reliance on debt financing that make Angel Investing hard to connect to. Only a small handful of incubators seem to offer any chance to connect to a small pool of innovative entrepreneurs (rendered small by an ageing demographic).
Taiwan's nascent Angel groups are often connected to universities. In fact, being an alumni is often a requirement to join.
Indian authors show a characteristic optimism in the face of considerable challenges, noting funds raised by startups in 2015 surpassed that in the previous five years, and claiming "India is on the cusp of becoming the startup capital of the world!" Potential indeed.
In Southeast Asia, Indonesia, Thailand and Malaysia likewise are developing their Angel Investment communities through new networks and government support. Singapore shares many of Hong Kong's virtues and challenges, but isn't as tightly tied to China and its investment communities.
Australia has a comparatively mature Angel Investing community that is easy for international players to connect to; if only for the English language and maturity of the economic and legal environment and English language (like Hong Kong, Singapore and New Zealand). It is unusual in that the focus of the authors isn't just on internet startups, but considers investments in life sciences, clean technology, construction, mining, web software and IT to be worthy of equal consideration.
JUST DO IT, DO IT, DO IT – BUT DO IT RIGHT
The third part of the book serves as an excellent reference for anyone considering investing or raising funds, anywhere. What is welcome is reading a text that doesn't automatically state its data from an American perspective in every instance – as if it is the only country in the world. Angel Investor demographics show the variety around the region. For example, in Singapore, a much higher proportion of Angel Investors are younger than their Western counterparts, and more are women – up to 22%. Angel Investors in The Philippines are almost exclusively university degree holders and often holders of multiple degrees.
Finding and picking your targets, diversifying your portfolio, valuation and negotiation, structuring and exits are all covered in detail. IP across the region is examined and worth a read. Details about documentation and structuring deals are fairly detailed and useful for medium to experienced investors, as well as those new to the game. Even entrepreneurs have their own chapter about attracting Angel Investment and how to give up equity.
GOVERNMENTS – THAT MEANS YOU TOO
There is a short but punchy chapter on how policy can impact Angel Investment. It starts a little academic in style, but sharpens up as it develops. It identifies that well-meaning policy can divert resources and attention from productive ventures, but should still be considered. It looks at today's informal investors, as they will be tomorrow's Angel Investors as the global economy matures. It highlights the variety of government support across the region; ranging from Hong Kong's physical and community support networks like Cyberport, to government co-investment popular in places like Singapore and Australia. China, at all levels of government, ticks the 'All of the Above' box for government support. Bizarrely, Hong Kong, as previously mentioned, is the only jurisdiction whose entrepreneurs cannot access equity crowdfunding due to regulatory constraints.
The authors do acknowledge that many of the barriers to Angel Investing, or connecting international Angel Investors to markets, arises from cultural considerations outside of government control. Sometimes, the people just have to want it before it will happen. Finally, Professor Po Chi Wu makes a pithy case for 'Why Asia'? The answer? Change, Growth, Scale, Resources (people), Momentum, Global Markets and Wealth – specifically Asian wealth and where it will go. Mr Lo and his contributors from across the region are bullish on Asia and their local markets. With this book as a starting point, Angel Investors now have an excellent base from which they can spread their own wings in Asia, and take off on a profitable journey.