In an article Prof Inderjit Singh recently wrote for the Japan-based Asian Productivity Organization (APO), he identified 10 challenges that present opportunities in the post-pandemic era. He focuses ton three of the most key opportunities for the World Class Startup Magazine.
Prof Inderjit Singh was a guest editor of the World Class Startup magazine's special edition for the Global Fundraising Stage of the World Congress of Angel Investors, WBAF 2022. Angel Investor Review now shares his article with its subscribers online.
He is a Board Member of the World Business Angels Investment Forum and President of the Global Startup Investment promotion Agency (WIPA). He is a former parliament member of Singapore.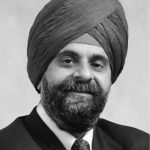 Since early 2022, COVID-19 has started transitioning from a pandemic to endemic. As vaccination rates improved, countries have started reopening their borders to travellers. But against an already turbulent backdrop of inflationary pressures and disrupted supply chains, the Ukraine war has dealt an unexpected blow to global economic recovery.
How should companies react to this unprecedented series of disruptions? What challenges will they face, and what opportunities will emerge in the New Normal? History has shown that some of the most resilient companies were founded during times of recession. 
On how to react during good and bad times, the famous Hong Kong tycoon-entrepreneur Lee Ka Shing once said: "I do not get overly optimistic when the market is good, nor overly pessimistic when the market is down". Strategies to tap emerging opportunities include pivoting business models, shedding business segments in favor of new ones, reviving old capabilities, and acquiring new skills and technologies.
Opportunity 1: Diversification and Realignment of Supply Chains
Supply chain realignment started with the US-China trade war, which expanded into a global trade war of sorts due to the various sanctions imposed by different countries.
Trade restrictions made countries realize the importance of diversifying their supply chains, and governments started offering companies tax incentives for reshoring. For example, USA identified USD70 billion of investment in the semiconductor industry for local production, and Japan disbursed USD2.2 billion to incentivize local companies to return China-based production to Japan.
PR China went into a nationwide lockdown when COVID-19 first hit, and its various cities also faced subsequent lockdowns. Many Chinese factories face imminent collapse and freight costs have skyrocketed by 200%–400% in the last 2 years, dampening China's reputation as "the world's factory".
As global players reduce their dependency on China, we will see a drastic realignment of supply chains In favor of multiregional and multicompany sourcing. By harnessing technology and local knowledge, opportunities will present themselves for companies to form new supply chains.
Although the world remains digitally connected, mass production and cross-border deliveries will no longer be tenable going forward. With greater localization and customized mass production, companies will reprioritize their production towards local and regional markets rather than distant ones.
Some industries will revive local and regional manufacturing as technology reduces their dependency on low-cost input factors, enabling their production to be driven by productivity, technology, and skilled manpower. Companies could take on production of new goods and services. If they remain as part of supporting industries, they will need to reposition themselves within the supply chain.
Conventional wisdom that cities like Singapore cannot compete in many markets due to their high cost structure no longer holds true because technologies like artificial intelligence (AI), robotics, additive manufacturing, and digitization will level the playing field.
As supply chains are reconfigured, companies must consider the manpower, logistics, and tax implications of business relocation. Thus, companies should understand how global supply chains will realign and start strategizing how to remain relevant. This will mean workforce reskilling, pivoting to new business models, and adopting technologies to improve their prospects.
Opportunity 2: Digital Transformation, Digitization and "Zoomization" of all businesses
"Digital Transformation" is not simply adopting digitization, nor is it just about technology adoption. Rather, "Digital" refers to a rapid pace of change due to technology adoption. Since "Transformation" is about reinventing an organization through innovation, "Digital Transformation" therefore refers to reinventing an organization in a rapidly changing world.
Technology had already been disrupting industries before the pandemic. For example, Airbnb is a digital platform that has revolutionized how room booking occurs. Before COVID-19 disrupted travel, Airbnb was securing more bookings than Marriot or Hilton, two of the world's oldest hotel chains. Airbnb's technology is not rocket science; rather, its business model is empowered by digitalization. Similarly, Uber transformed the taxi industry by harnessing technology to birth a new business model.
Companies typically struggle to manage change, especially in adapting to new technologies. If one good thing came out of the pandemic, it is that everyone was forced to change at breakneck speed.
For more than two decades, the Singapore government had been prodding companies to improve productivity, adopt technology, and digitize their businesses, but the pace of change was glacial. Many resisted change and refused to adopt new technology.
The pandemic compelled digital transformation by virtue of necessity. Demand shifted rapidly to online platforms. Although some individuals remained averse to transacting online, most were obliged to use digital platforms due to lockdowns and social distancing requirements.
Digitalization is the new reality for people and companies, as online users adapt to new norms of living in a digital age. Industries that had already adopted digital technology thrived during the pandemic. In particular, e-commerce boomed, and the valuations of e-commerce companies shot up. Other areas that thrived are streaming entertainment, cloud computing, digital payments, teleconferencing, education, and digital content.
Digitalization is still at a low base today and there is a long runway available for companies keen on carving out a niche in the new cybereconomy, which is the integration of the virtual and physical worlds powered by advances in digital connectivity. To exploit this opportunity, companies need to pivot their business models and leverage technology early. Digitalization will affect every business sector, even the most traditional ones.
Companies should therefore leave no stone unturned in identifying areas where digitalization and technology could create new business models to meet the cybereconomy's future needs.
What I mean by "Zoomization" of all businesses is the convergence of physical, digital, and biological worlds that had already begun as part of Industry 4.0 or the Fourth Industrial Revolution, made possible by rapid advances in AI, robotics, and the Internet of Things (IoT), along with the growth of technologies that facilitate genetic engineering, quantum computing, and 3D printing (inclusive of food and human organs).
People and machines are now digitally more connected than ever, and "Zoom" is now a new verb. AI has replaced many human contributions to the economy and permanently altered how people use technology, with profound consequences on work, consumption behavior, delivery of goods and services, education, and many other areas. The cybereconomy will harness converging technologies to create an inclusive future for all.
Companies must quickly jump onto the bandwagon, even if merely to complement existing channels to connect with customers, partners, employees, and other stakeholders. They have to "Zoomify" their businesses to stay relevant. While they search for a niche in the cybereconomy for the longer-term, they can identify low-hanging fruit in the meantime.
Opportunity 3: Talent Recruitment and Location – "Work From Village"
Despite technological advancements, people will remain the greatest assets of any organization. However, the ease of employers to recruit global talent and employees to access remote offices has significantly improved, levelling the playing field for international talent. Thanks to technology, working from home has become a reality—this will be the future of work. Throughout the pandemic, work got done efficiently and employees took greater ownership and accountability for their work, reducing their need to "be managed".
In the past, the norm was for everyone to work together in the same location for maximum productivity. Talent recruitment by big firms involved identifying the best talent from around the world and relocating them to operational sites. For example, banks operating on Wall Street required their employees to relocate to New York. Employees living in New York required high salaries and expensive workspaces to upkeep, feeding a vicious cycle of high costs.
Today, talent can be remotely located anywhere in the world and still work efficiently with no relocation required.
Supply- and-demand dynamics for human capital will shift significantly, especially for knowledge workers. In the past, smaller companies had to settle for second- or third-rate candidates since they were priced out from attracting top-notch local individuals, who relocated to where prime employers were based. But with working from home as the new norm, all companies will be able to recruit talented individuals from around the world. People can "work from the village" without venturing overseas to find employment.
Hence, start-ups and smaller companies no longer need to compete with large companies for local talent. They can employ the best international talent, reaping substantial cost savings by avoiding relocation fees, expensive office rentals, and inflated local salaries. For example, the best software programmer in Kenya—who may be equal to any in Singapore—might be hired at a fraction of the cost.
Another implication of this new trend is that innovative industries may no longer need to cluster in expensive areas such as Silicon Valley, causing innovation hubs to be more evenly distributed around the world. This can already be seen in the example of Estonia, an innovation center currently serving many other nations. "Working from village" is now becoming a reality.
Conclusion
I urge all entrepreneurs and investors within the WBAF community and beyond to carefully read the "tea leaves" of changes that the post-pandemic New Normal will bring and reinvent, reposition and remodel business models and businesses to emerge the new winner of the post-pandemic world. WS