The subject of how CEOs can make the transition into angel investment was discussed at the World Congress of Angel Investors WBAF 2018 Istanbul. Amal Daragmeh Masri, Editor in Chief of Middle East Business Review, led discussions on making this transition, with Arton Celina, CEO of BPB Bank in Kosovo, Balazs Hendrich, Consul General of Hungary in Istanbul and Bostjan Skalar CEO of World Trade Association of Investment Promotion Agencies in Slovenia, offering their insights.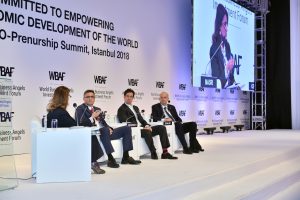 Mr Skalar, you have a background in economy and diplomacy. With this experience in mind, do you think we can turn CEOs into angel investors and is it a good idea? Is it a risky move? We see many investors losing money, so would you advise them to invest early on with less money and more risk, or later on with more money but less risk?
CEOs are usually more institutionalised and work in a more formal business environment. They are running companies on a larger scale, with departments that they can delegate various jobs to, whereas start-ups are often very small teams, or even individual people. I think CEOs could be turned into angel investors, but they will be better equipped to make a difference in an arrangement that is familiar to them, so scale-ups are probably a better option than start-ups. They may invest more this way, but there is less risk attached. The thing is, CEOs have a great deal of experience that start-ups could really benefit from, but this mismatch in working arrangements prevent them from passing their knowledge on to those who really need it.
Do you think that it is better that CEOs wait until they are retired before looking to invest in others, and how much money do you think they should have aside for investment?
I don't think that value of investment really matters, although at this point they would not be expected, and probably would not be looking, to invest huge amounts. It would probably be better for them to have retired from their main job, whatever their age, and then they can take steps slowly and consider their future position.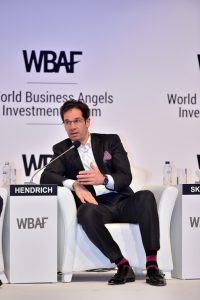 Mr Hendrich, do you think it is a good idea to encourage CEOs to become angels, especially considering this huge gap in investment we are seeing?
Running a diplomatic mission is quite close to running a consulting firm, which I've done for more than fifteen years. Being a CEO is a great opportunity to oversee lots of small scale corporates, some of which may be succeeding and growing, and some of which may be failing. I think CEOs have enormous potential to give something back to the start-ups with the expertise, and their ability to measure risk. All the entrepreneurs I have met are in love with their ideas, which is great on one hand, but on the other it can create some issues, and CEOs are capable of mentoring entrepreneurs through these common start-up issues. Mentoring might be the most valuable way that CEOs can make a difference to entrepreneurs.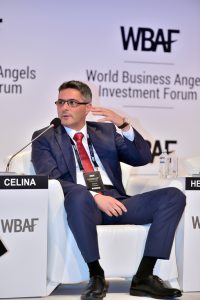 Mr Celina, you must have lent a lot of money over the years. SMEs see a huge gap in investment and you have a lot of money in your pockets. How do you see banks dealing with this gap, and how can you help CEOs if you encourage them to get into investment. Of course, you don't want to end up creating competition for the bank.
I agree with the others. A CEO can become an angel, and considering the knowledge they have, it would be a shame for them not to go into investing. I would say, though, that a CEO-turned-investor should have reached retirement, as they can bring a level of scepticism to proceedings – the older you get, the more risk-averse you become. By this point in their lives, they will have more experience to bring to the table. I think CEOs should be encouraged to become angels, but it has to run parallel with what they know and are comfortable with. In my country, angel investment is still in its infancy, so a deal requires lots of contributions from a number of stakeholders. Governments should play a role in helping to regulate investment, and universities should be encouraging students to go into entrepreneurship. Co-investment and exit strategies also need to be wider spread for angel investment to reach its potential on a global basis.
On the subject of banks helping to create a better ecosystem, Mr Skalar, can you elaborate on this? Start-ups lack funding so how can we make an ecosystem that supports this investment gap?
I don't think the angel investment ecosystem is even in existence yet. It may be in very early stages. Banks aren't very faithful in SMEs, because the business plans they produce are not strong enough for banks to take risks with. Banks could give a loan to a CEO based on their personal worth, which could then be used to invest into start-ups, but generally, they will want to focus on offers that could bring them a big return, millions. What I think banks need to recognise is how integral a part of the ecosystem SMEs are, and how they bridge the gap to the local markets. Banks could find themselves lucrative positions by considering that position with local markets.
Promotions agencies have been touched upon – are they given incentives to bring in opportunities for investment?
It depends on the country. I work with people from 130 different countries and each one does things differently, so some of them get incentives, but in a lot of places around the world, the angel investment arena is still in its early stages.
Mr Hendrich, how has your experience in business and venture capital influenced your opinions on CEOs becoming angel investors?
I am now in the public sector, and it is important what the public sector can do for SMEs, and we need to explore it. Government has a certain responsibility to help SMEs and start-ups to enter this risky endeavour, and I think that going from one role to another, like I did in going from consulting to lending, can bridge a gap. I have experience with dealing with corporate people and understand how they plan their businesses, which is a huge advantage. On the other hand, I think policies need to be designed to support entrepreneurs and investors. If policies can take certain risks off of the shoulders of investors, we can start to develop a thriving ecosystem.
Mr Celina, do you agree that governmental policies need looking at?
Government is welcome to play a constructive role towards supporting new ideas, but I'm not sure that too much control over early stage investment is a good thing. But if positively constructed and implemented, policies could add value at some point.
You can listen to the full interview from the WBAF Annual Congress 2018 here –