A short article by Baybars Altuntas, WBAF Executive Chairman after his visit to Prof. Farrah Mahmood's exhibition at the National Art Gallery of Pakistan.
''Prof. Farrah Mahmood's exhibition at the National Art Gallery of Pakistan under the auspices of the Pakistan National Council of the Arts included a wonderful piece where she summarises why people, nations, and governments are not able to develop an impactful dialogue. The roots of trees symbolise the barriers to communication. The roots, because they are underground, are invisible and have a deep history. She invites all responsible citizens to make an effort to make those roots visible so that everyone can face the real reasons behind challenges and strive to solve them. If roots remain invisible, it is virtually impossible to address the challenges, and the problems remain.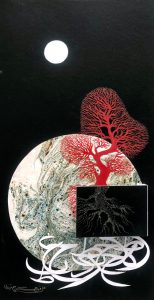 Prof. Mahmood's work deals with a wide range of socio-political issues. In most of her work, she draws attention to the abuse of power in all its senses, which is the root cause of a corrupt and unjust system that distresses our personal judgment of human values. She is one of the winners of the World Bank's "Imagining Our Future Together" art competition. Her work has been included in the World Bank Permanent Collection at its headquarters in Washington, DC. In 2018, she was the recipient of the Women Role Model award organised by KZee Arts.
I am pleased to introduce Prof. Farrah Mahmood to Sello Hatang, Chief Executive of the Nelson Mandela Foundation, which hosts dialogue meetings around the world. I am sure the Nelson Mandela Foundation will find it rewarding to have her in their global network.
I enjoyed a wonderful day at the National Art Gallery in Islamabad with my dear friends Ambassador Shahid Kemal and Pervaiz Akhtar, President of the German Pakistan Chamber of Commerce and Industry.
I am convinced that by bringing together global luminaries from the realms of business, art, politics, and philanthropy, we can bring about positive change in the world. With the participation of individuals and institutions from multiple sectors and from all parts of society, real progress can be achieved.''