Certified Angel Investor Course (QBAC+) of the World Business Angels Investment Forum – an affiliated partner of the G20 Global Partnership for Financial Inclusion (GPFI) – concludes at the Qatar Development Bank. The programme was delivered over two and a half intensive days, finishing with a proficiency exam. Qatar Development Bank CEO Abdulaziz Al Khalifa shares insights about angel investing and the QBAC+ programme in this exclusive interview with Angel Investor Review.
Let me first ask you about how this course came about. What was QDB's motivation for offering      this certification programme to potential angel investors?
The QBAC+ course came at a time where Qatar is witnessing major Economy transformation through undertaking the development and implementation of Major strategic initiatives. These strategic initiatives were developed in responding to current political situation represented by the imposed blockade by neighbouring GCC countries and adverse economic conditions that requires Qatar to achieve its self-sustainability and achieve the required economy diversification as outlined in Qatar National Vision 2030.
However, Qatar believes that in order to achieve the said economy transformation, it should focus on empowering its citizens to become the flag bearer of implementation of the relevant strategic initiatives, which can be achieved through:
Provide local citizens with the appropriate coaching programs to ensure that they have the required knowledge and skills.
Promote creativity, innovation, pioneering and entrepreneurship.
Create alternative funding resources to ease access to finance in order to support business ideas, business plans and start-ups.
Qatar Development Bank plays vitally contributes to economy transformation and diversification through focusing on promoting innovation and entrepreneurship. It provides a wide range of financial, non-financial services along with human capital coaching and educational programs and workshop. Therefore, QDB was motivated to offer the QBAC+ as it enhances its offered coaching services, which will provide the required skills and knowledge to Investment Ecosystem participants through:
Promote Angel Investing's global best practices.
Support Angel Investing Activities through enhancing the participant's skills and knowledge, which enables them to make better investment decisions.
Find an alternative source of funding for start-ups and early stage businesses.
Provide technical and managerial mentorship.
Increase the chances of achieving growth and better returns to both; founders and investors.
What is the role of angel investors in the innovation ecosystem of Qatar?
As the majority of Angel Investors are coming from an entrepreneurial background, Angel Investors plays a vital role in supporting the innovation ecosystem through:
Investing in technology & high-tech business sectors.
Focus on providing disruptive and innovative solutions that has high potential of scalability and growth.
Strive to be actively involved in businesses to achieve growth and success.
Provide the required mentorship and business networking to founders.
Provide businesses with access to alternative funding through investing individually or through syndicates.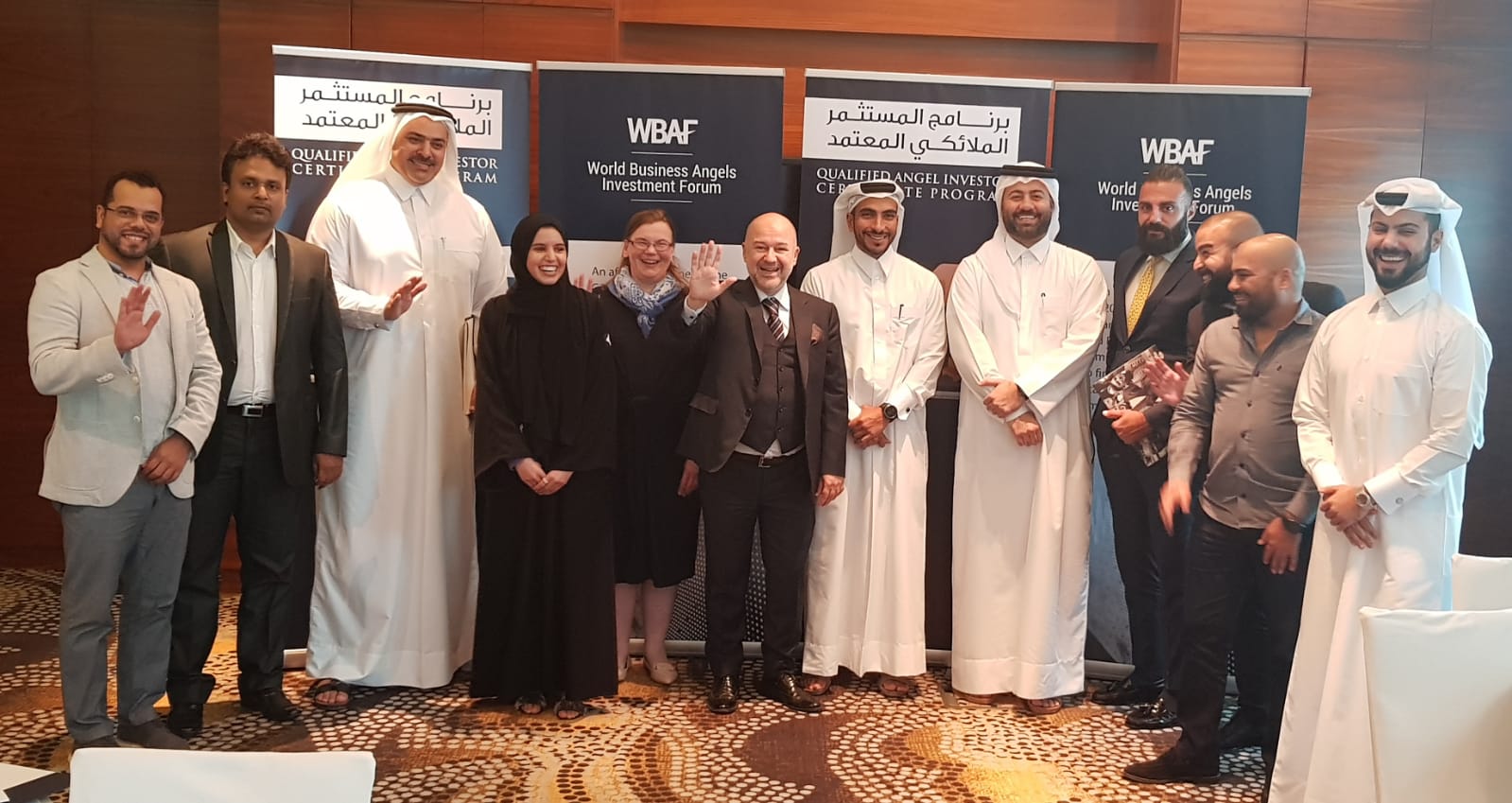 How does QDB support angel investors?
QDB is about to sign a Memorandum of Understanding with a local network of angel investors in order to achieve the following:
Jointly source interesting and promising start-ups predominantly locally but also globally.
Cooperate on analysis and valuation of start-up ideas and business plans.
Development of strategy of co-financing as well as follow on investment (e.g. helping jointly financed companies to receive follow on investments by VC funds).
Why did you feel the need to offer QBAC+?
It is important to offer this course to Angel Investors to bring in the world's best Angel Investment practices and foster investors' skills and knowledge.
How does QDB engage with early and post-early stage equity markets in Qatar?
QDB offers special investment programs designed for businesses at different stages of their life cycle, including early seed start-ups, Series A, B and C investments. In addition, QDB coaches and supports its portfolio companies throughout the entire time of its development and focuses on qualifying them to receive next stage third party financing.
Do you believe angel investing is only for millionaires?
Angel Investors are not required to be HNW individuals to invest in start-ups but they should understand that Angel investing is generally associated with high risk and uncertainty. However, and According to the prudent investment rules set out by leading regulators such as SEC (US) and FCA (UK), Individuals with a Net Worth of less than USD 500,000 are strongly discouraged to invest as angel investors as the risk of losing capital is very high.
How does QDB engage with the QBAC+ certified graduates after the course?
QDB will conduct a thorough survey to ensure that graduates have the right knowledge and professional skills to engage with Angel Investing activities and match Qualified Angel Investors with Start-ups and early businesses for funding the mentorship purposes.   
About QBAC+ – Qualified Angel Investor Course Programme with a Proficiency Test
QBAC+ training is organised upon the request of corporates or institutions who want to enrich the knowledge of their staff about angel investment. The training is usually conducted at the premises of the institution or corporate or, if they prefer, a meeting room in a hotel, university, chamber of commerce or stock exchange. The maximum number of participants accepted for each training is 25.
QBAC+ Closed Group Trainings can be delivered in English or in the local language of the participants. Training in English lasts 2½ days, which includes a case study and a proficiency test at the end. The level of certification (Qualified Angel Investor, Accredited Angel Investor, or Silent Angel Investor) is determined by the test results.
Training in the local language depends on the availability of WBAF faculty members who can lecture in the local language. It lasts 2 days, and there is no case study or proficiency test. Participants will receive a Certificate of Attendance for the Qualified Angel Investor Course.
About the World Business Angels Investment Forum (WBAF)
An affiliated partner of the G20 Global Partnership for Financial Inclusion (GPFI), the World Business Angels Investment Forum (WBAF) is an international organisation aiming to ease access to finance for businesses from start-up to scale-up, with the ultimate goal of generating more jobs and more social justice worldwide. It is committed to collaborating globally to empower world economic development by creating innovative financial instruments for innovators, start-ups, and SMEs. The Forum interacts with leaders in all areas of society, first and foremost in business and political spheres, to help assess needs and establish goals, bearing in mind that the public interest is of paramount importance. WBAF engages a wide range of institutions, both public and private, local and international, commercial and academic to help shape the global agenda.
About GPFI
The Global Partnership for Financial Inclusion (GPFI) is an inclusive platform for all G20 countries, interested non-G20 countries, and relevant stakeholders to carry forward work on financial inclusion, including implementation of the G20 Financial Inclusion Action Plan endorsed at the G20 Summit in Seoul. Queen Maxima of the Netherlands is the Honorary Patron of the GPFI.