As ITÜ ARI Teknokent continues to drive the early-stage tech ecosystem in Turkey, learn more about some of their biggest successes and exciting plans for the future.
Could you tell us about İTÜ ARI Teknokent and its activities?
İTÜ ARI Teknokent is among the first Technology Parks ever established in Turkey. We create significant synergy among all our units, physical buildings, and knowledge of ITU that comes from the past. In this way, we provide the most convenient environment and facilities for technology companies and entrepreneurs to best develop their technology, and commercialise their businesses.
Through the İTÜ Magnet Advanced Stage Entrepreneurship Centre, which we launched last year, we finance startups and entrepreneurs who have completed the incorporation stage and are looking to build their ideas into products to take a step further.
We also support expansion of companies into foreign markets with the INNOGATE International Start-Up Acceleration Programme,incorporating Boğaziçi Teknopark,Teknopark İstanbul, and Yıldız Teknopark, which we put into practice with the ISTKA fund.
As İTÜ ARI Teknokent, we are going to continue to be the focal point of R&D, innovation activities and support; and improve the synergies that arise from the mergers of R&D companies, whilst directing them to the correct channels.
How many companies are there within the body of İTÜ ARI Teknokent? How many people doesit employ?
As İTÜ ARI Teknokent, we are located in İTÜ Ayazağa Campus – where we operate from a total of 10 buildings ina closed space of 180 000m2. We are atthe core of technology, innovation, and entrepreneurship in Turkey – with some2500 live projects, featuring 148 patents from 250 technology companies, and over 6 500 employees.
What distinguishes you from other technoparks?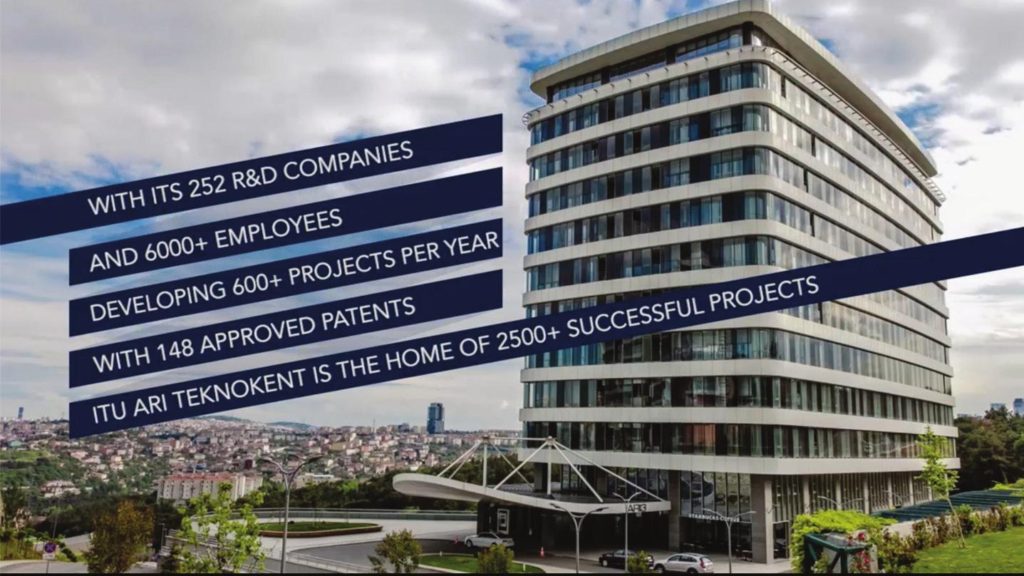 As İTÜ ARI Technopark, we run projects that support start-ups – as is the norm; however, we also support companies that have already reached asignificantly sizable operation. In this regard, we take a different position from the average Technopark. We make crucial investments with the purpose of being the centre of entrepreneurship.The projects that result from these investments often turn into exemplary works for our country. For example,our ITU Gate project – which was initiated 3 years ago in Turkey, and has now opened Chicago and SanFrancisco offices – has inspired the INNOGATE programme, which we are now conducting with the cooperation of İSTKA.
Could you briefly give us information about some of the most significant projects that İTÜ ARI Teknokent has run to date?
As İTÜ ARI Teknokent, we cover the cost of all of our investment. We have materialised the ITU Gate Project which evolved into INNOGATE; we have created the İTÜ Magnet centres for advanced startups; and we built the İTÜ Çekirdek for young startups.
"Our member companies have provide demployment for over500 people and are collectively valuated at TRY 415m (USD $110m)."
Our current objective is to complete the "Automotive and Mobility The matic Building" after an Energy Teknokent building, which focuses on the energy sector and supports automotive-related technologies further.
Has there been any businesses which began in İTÜ ARI Teknokent as startups and came to the fore front with its success?
Having hosted such companies as Pozitron (Monitise) and SESTEK -which began as startups – and having supported them on the path to becoming large-scale companies, İTÜARI Teknokent fulfills its mission to help companies expand.
Many companies originating from İTÜ Çekirdek have gone on to achieve commercial success. Most of them have established international relationships and started to support national exports. Many of our companies, such as Acrome – which was founded in order to develop robotic and mechatronic systems to be used in industrial and academic fields; and Bunsar – which works on enhanced reality – have established important partnerships with several prominent companies in Turkey. The enhanced reality application, Pandora – which was developed as an alternative to the models used in the construction and architecture sectors – has also been a great success. Pubinno, which produces smart beverage vending machines has impressed; and there have dozens of other companies of ours which have been performing impressively with their international sales. The company SBS Bilimsel Bio Çözümler – which intends to provide support for the development and sustainability of the apiculture sector in Turkey, and endeavours to be an internationally recognised and respectable company – was the first Turkish business to receive an award from the Fancy Food Show in the United States for its "BEE'O" product, which was produced last year in İTÜ ARI Teknokent. İTÜ Çekirdek's Automotive Technologies Category entrepreneurships IUGO, Enwair, Garajyeri, RePG, and Parkkolay have received investment worth a total of TRY 5m.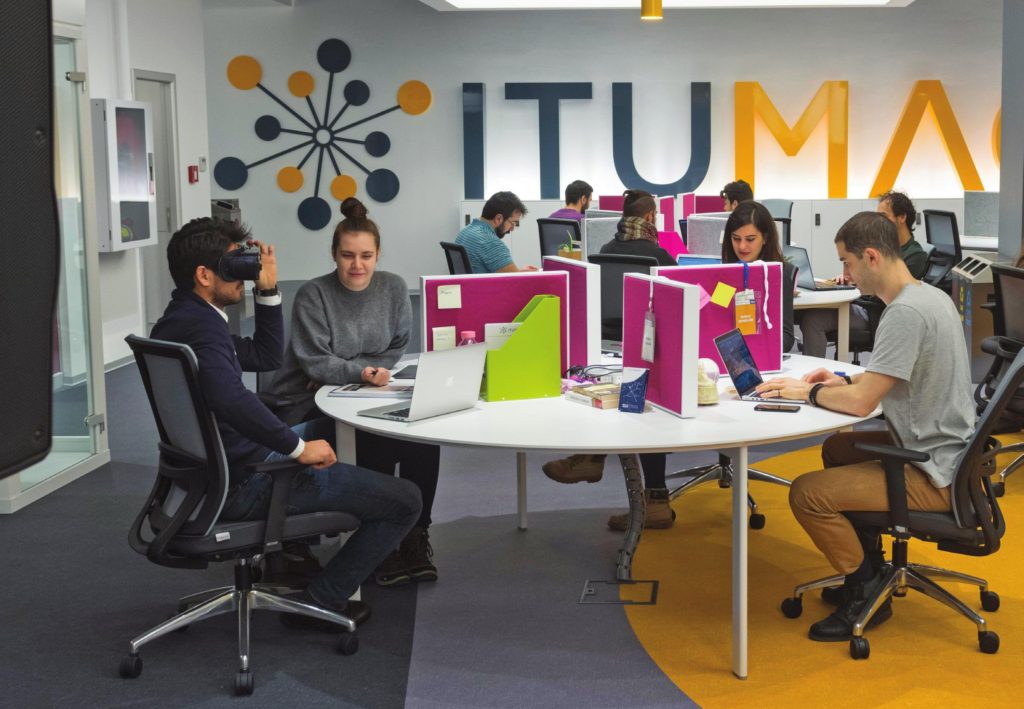 The 175 companies that have completed the incorporation stage in İTÜ Çekirdek make a combined turnover of around TRY 55m. Our member companies have provided employment for over 500 people and are collectively valuated at TRY 415m (USD $110m).
Can you tell us about the content of your programmes, such as İTÜ Çekirdek, Magnet, etc.?
İTÜ Çekirdek provides any kind of support possible to entrepreneurs who have a commercialized startup, enabling them to establish fully-fledged technology companies and develop. Entrepreneurs that would like to be a part of İTÜ Çekirdek are admitted to the process called "pre-incubation", where they can use every facility of İTÜ Çekirdek free of charge once the pre-qualification is carried out. During this period, they receive basic business management training from academicians and professionals, all the while trying to put their projects into practice on the side. The İTÜ Çekirdek process ends with an award ceremony called Big Bang. Qualifying teams get entitled to a share from the award pool of TRY 17m, as well as benefiting free of charge from all the facilities provided by the Incubation Centre for one year.
"İTÜ MAGNET fills an important gap in the Turkish early-stage ecosystem."
On the other hand, İTÜ MAGNET also aims to support startups which have left the foundation period behind, and are on the path to growing to a scale where they can compete on the international market. With this function, İTÜ MAGNET fills an important gap in the Turkish early-stage ecosystem. Advanced Stage Entrepreneurship Centre İTÜ MAGNET brings together high- potential technology entrepreneurs that have earned a place in the market, and offers a solidarity and sharing environment that is achieved by entrepreneurs together. The entrepreneurs in this environment can improve their relationships with the important stakeholders in the entrepreneurship ecosystem, as well as each other, in their own work environment. Furthermore, İTÜ MAGNET is a total entrepreneurship base with a spacious work area, convention rooms, a conference hall, and a presentation stage. The centre will also be open for the use of international startups that begin operating in Turkey. İTÜ MAGNET entrepreneurs will also be able work with said immigrating entrepreneurs, partner with them, and enjoy mutual growth and success as a result.
What is the significance of technoparks for exports, and what role do they play in this regard?
Teknoparks emerged in our country in accordance with the Law on Technology Development Areas, enacted some 15 years ago. While the Ministry of Science, Industry and Technology permits around 64 technology development areas, only 52 of them provide active service today.
Today, Turkish teknoparks host over 4 thousand companies, making considerable contributions to the gross domestic product, technology entrepreneurship, university-industry cooperation, and employment. Furthermore, technokents provide support for many startup companies that have the potential to turn into global firms operating out of Turkey.
By global standards, countries which allocate more than 3% of national income to R&D are considered developed. This figure for our state was in essence 0% before teknoparks came to be. These numbers have since risen steadily, and we are in fact on the verge of 1% of national income allocated to R&D. It stands to reason then that technoparks are extremely valuable to the country. As İTÜ ARI Teknokent, we are working to provide support to technology startups that will turn them into international brands. The contribution made by our successful companies last year was a big source of pride for us. In 2016, we continued to support the national economy by growing İTÜ ARI Teknokent's R&D export 11% year over year.
What are your targets for the periods ahead?
We are going to continue our works so that İTÜ Çekirdek, ITÜ Magnet and INNOGATE processes are concluded in the most efficient manner. Furthermore, we also aim to continue thematic teknokent set-ups that are focused on the industries most pertinent to our economy, such as Automotive and Mobility Thematic Building, which we will put into practice very soon.
How do you evaluate the Big Bang 2017, organised last November?
Big Bang Startup Challenge, which is organised by İTÜ Çekirdek, was ranked among the top three 'entrepreneurship contests providing the most funding for entrepreneurs' in the world. The 20 finalists gleaned from a starting pool of 11 thousand applicant startups, who presented their ideas and work in the final event in UNIQ Istanbul, along with some semi-finalist groups who also attracted the attention of investors. Winners earned their share of TRY 17m (USD $4.5) worth of grants and investments, together with the İTÜ Çekirdek startups that received second tour investments. The 20 startups that made it to the finals were: 3DRubber, Axolotbio, Bikoshu, B-Preg, Compocket, Ecogear, Eyedius, GmPly, Hagelson, Hootsumo, Meta-lol, Nanomik, Physhome, Porima, Rofoods Micro Market, Scoutium, Simularge, Sports&Merits, Telegrapher Labs, and TrakTS. The podium-finishing startups that received the highest number of investments were Eyedius, Nanomik, and Scoutium. Over 40 funders (Notably, the Elginkan Foundation, İstanbul Chamber of Industry, Uludağ, Otomotive Industry Exporters Union, Enerjisa, Turkish Technology Development Foundation, ING Bank, Pegasus, TurkcellArıkovanı, Cisco, Borsa İstanbul, Hepsiburada, Cardtek, Monitise, IBM, and Microsoft), 14 investor companies, and 10 individual investors joined İTÜ Çekirdek in providing investment and award support for the entrepreneurs.
The quality and plentitude of investments, awards, and stakeholders clearly served as testament to the success we have achieved in the last 6 years. Big Bang Startup Challenge 2017 was a culmination of the 6 years of success we have enjoyed. In 2017, more startups applied than ever before, and those startups that will truly affect the future (in parallel with the theme we had designated) competed fiercely. We will continue to support entrepreneurship and bring successful startups together with the right investors in 2018 and beyond. We have already started receiving our 2018 applications via İTÜ Çekirdek, and we incorporate new entrepreneurs into our body every Thursday with our jury.