Hussain Al Mahmoudi, the Chief Executive Officer of Sharjah Research, Technology and Innovation Park (SRTIP), has been chosen as the Honorary Chair of the UAE Country Office by the World Business Angels Investment Forum (WBAF). A significant agreement formalizing this role was signed today at the Conrad Hilton Istanbul, in the esteemed presence of Dr. Thani bin Ahmed Al Zeyoudi, the Minister of State for Foreign Trade. We are now to have Al Mahmoudi share insights on Sharjah, UAE, startups, angel investors, and the partnership with WBAF.
Al Mahmoudi, a highly influential Emirati business leader, has held various pivotal positions and spearheaded significant initiatives and projects throughout his career. He notably served as the Director General of the Sharjah Chamber of Commerce and Industry for eight years and has assumed leadership roles at prominent regional and international companies, including the Royal Dutch Shell Group, Emirates National Oil Company (ENOC), and Dubai Holding. Currently, he holds the position of an honorary board member at the Tatweer Forum and Maastricht University in the Netherlands, as well as the Chairman of the Emirates Business Council for Sustainable Development.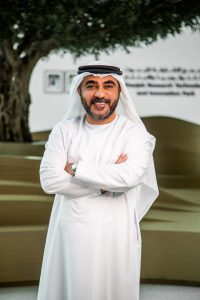 Angel Investor Review: Mr. Al Mahmoudi, thank you for taking the time to speak with us today. Can you start by telling us a bit about Sharjah Technopark and its role in the Sharjah and UAE business ecosystem?
Al Mahmoudi: Certainly, it's my pleasure to be here. Sharjah Technopark is a leading business and technology park located in the heart of Sharjah, UAE. We provide a platform for businesses, particularly technology and innovation-driven enterprises, to set up and flourish in the region. We offer state-of-the-art infrastructure, support services, and a collaborative ecosystem that nurtures innovation and entrepreneurship.
SRTIP's primary objective is to stimulate innovation and research and development (R&D) by offering state-of-the-art facilities to emerging startups. We actively champion pioneering innovation, with a particular emphasis on projects that offer solutions for enhanced and sustainable living.
SRTIP constitutes a dynamic ecosystem that furnishes innovators and startups with the ideal conditions to transform their concepts into tangible realities. Presently, we host more than 4,000 companies on our grounds in Sharjah, strategically positioned alongside the prestigious American University of Sharjah, with whom we maintain an ongoing collaborative relationship. The SRTI Park thrives through the synergistic collaboration of industry, government, and academia, embodying the essence of the triple helix framework.
Angel Investor Review: How do you evaluate the current status of R&D in the UAE in general?
Al Mahmoudi: The current status of R&D in the UAE is undeniably impressive, with a notable and consistent trajectory of advancements in the global innovation landscape. In the Global Innovation Index (GII) for 2022, a publication by the World Intellectual Property Organization (WIPO), a specialized agency of the United Nations, the UAE secured a global ranking of 31, reaffirming its stronghold on the regional front by securing the 1st position.
What's particularly commendable is the UAE's remarkable ascent in the rankings, with a two-position improvement from the preceding year. This upward trend has positioned the UAE as the undisputed leader in the Arab region for the 7th consecutive year, underscoring its unwavering commitment to fostering innovation. The UAE's sustained progress firmly establishes it among the world's most innovative nations, eclipsing the rankings of countries such as India (ranked 40), Russia (ranked 47), Malaysia (ranked 36), and Poland (ranked 38). This consistent upward trajectory in global innovation indices attests to the UAE's dedication to advancing research and development, making it a prominent player on the international innovation stage.
Angel Investor Review: That's impressive. Now, let's talk about the recent Memorandum of Understanding (MOU) signed between Sharjah Technopark and WBAF. Can you explain what this MOU entails and what the objectives are?
Al Mahmoudi: Absolutely. The MOU between Sharjah Technopark and the World Business Angels Investment Forum (WBAF) is a significant step towards fostering innovation and entrepreneurship in the UAE. It paves the way for the establishment of the WBAF UAE Country Office, which will serve as a hub for angel investors, startup founders, and ecosystem stakeholders.
The primary objectives of this partnership are to enhance access to funding for startups, promote knowledge exchange, and provide a supportive environment for entrepreneurship. By collaborating with WBAF, we aim to connect local startups with a global network of investors, mentors, and experts, thereby empowering the startup economy in Sharjah and the wider UAE.
Angel Investor Review: How do you see the establishment of the WBAF UAE Country Office impacting the startup ecosystem in Sharjah and the UAE as a whole?
Al Mahmoudi: The establishment of the WBAF UAE Country Office is a game-changer for the startup ecosystem here. It will facilitate easier access to early-stage funding for startups, which is often a major hurdle for entrepreneurs. By connecting our local startups with international angel investors and experts, we can accelerate their growth and provide them with the guidance and mentorship they need to succeed.
This will not only attract more talent and innovation to Sharjah but also contribute to the overall economic growth of the UAE. It's a win-win situation where startups get the support they need, and investors gain access to promising investment opportunities.
Angel Investor Review: How will the partnership between Sharjah Technopark and WBAF promote a culture of entrepreneurship in the region?
Al Mahmoudi: Our collaboration with WBAF will foster a culture of entrepreneurship by providing a nurturing and supportive ecosystem for startup founders angel investors. We'll offer WBAF's Qualified Angel Investor Certification Programmes with a proficiency Test, mentorship programs, workshops, and networking opportunities that will inspire and educate aspiring entrepreneurs and angel investors. Additionally, having a local presence of WBAF sends a strong message that the UAE is open for business and innovation.
By promoting a culture of entrepreneurship, we aim to encourage more individuals to pursue their business ideas, ultimately contributing to economic diversification and job creation in Sharjah and the UAE as a whole.
Angel Investor Review: That's truly exciting. Can you share some of the specific programs or initiatives that will be rolled out as part of this partnership?
Al Mahmoudi: Certainly. We have an ambitious plan to roll out a range of programs and initiatives through the WBAF UAE Country Office. These will include:
Investor-Startup Matchmaking: We will facilitate connections between local startups and angel investors from the WBAF network, helping startups secure the necessary funding to scale their businesses.
Educational Workshops: We'll host workshops and training sessions on topics such as angel investment, startup assessment, digital transformation, business development, investment readiness, and pitching to investors.
Mentorship Programs: Experienced entrepreneurs and investors from the WBAF network will provide mentorship to startups, sharing their knowledge and experience.
Networking Events: Regular events will bring together key players in the entrepreneurial ecosystem, creating opportunities for collaboration and partnerships.
International Exposure: Startups will have the chance to participate in international events and pitch their ideas to a global audience.
These initiatives will cater to startups at various stages of development, from ideation to scaling, and will be designed to address their specific needs.
Angel Investor Review: As an influential Emirati business leader, what do you advice to startup leaders to achieve more?
Al Mahmoudi: Remember that every startup is unique, and there's no one-size-fits-all formula for success. Adapt these principles to your specific industry and circumstances. Seek guidance from experienced entrepreneurs and mentors, and be prepared to learn from your own experiences and mistakes as you grow your business.
Angel Investor Review: What are the key qualities or characteristics that a successful startup leader should possess?
Al Mahmoudi: A successful startup leader should be resilient, innovative, and capable of making tough decisions. They should also be adaptable, open to learning, and possess excellent communication and leadership skills.
Angel Investor Review: What advice do you have for startup leaders when it comes to balancing risk and caution in their decision-making?
Al Mahmoudi: Balancing risk and caution is a delicate art. It's important to take calculated risks, thoroughly research your decisions, and have a contingency plan in place. Avoid being overly cautious, as it can hinder growth, but don't rush into decisions without proper analysis.
Angel Investor Review: Thank you, Al Mahmoudi: for sharing these details about the partnership and its potential impact on the UAE startup ecosystem. Thank you for your valuable advices to startup leaders. We look forward to witnessing the positive developments that come from this collaboration.
Al Mahmoudi: Thank you for having me. We're very excited about the possibilities this partnership with WBAF holds for the future of entrepreneurship in Sharjah and the UAE. We believe it will empower startups and drive economic growth, and we're committed to making this a reality.