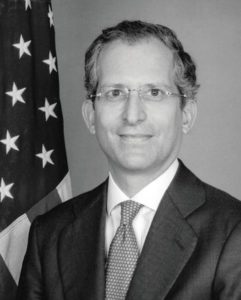 U.S. Ambassador to the EU Anthony L. Gardner shares
US wisdom and support for the future of European Early
Stage Investment Markets.
A growing trend in the 21st Century is the speed at which start-ups can achieve economies of scale and significant market share. Advances in technology, widespread access to information and social media have lowered the barriers to market entry and made it far simpler for new businesses to compete with entrenched players. Gone are the days when large corporations can afford to ignore new, small players. Often the competitiveness of start-ups and SMEs lies in their lower overheads and faster decision making processes.
Anthony Gardner, United States of America Ambassador to the European Union, highlights the extent to which global job markets are reliant on small-and-mediumsize enterprises. In 2015, SME's created 85% of new jobs in Europe and 63% in the US. These are staggering percentages when one considers the amount of government, media and market attention is focused on large corporations. Small-and-medium-size enterprises drive change, progress, increase productivity and create jobs, they are, "the world's vital force for the future".
Several forecasts for Europe suggest the sizable impact and role the digital space is having, and will have, on Early Stage Investment Markets. App development in the European Union is expected to create three million jobs over 2016 – 2018; the European Union digital sector is anticipated to grow at seven times the Union's overall Gross Domestic Product growth rate; and in the next five years the internet economy in G20 countries is expected to grow at 8% per annum.
However, Anthony Gardner warns that there is still work to be done to make start-ups and small-tomedium- size enterprises more successful. He contends that, "Europe does not have a start-up problem, it has a scale-up problem". There should be a greater proportion of successful start-ups scaling up more rapidly. The European Commission needs to remain focused on facilitating entrepreneurship and creating Europe's Digital Single Market – "The EU cannot afford fragmented regulation in 28 countries for digital products and services". The US government and other US organisations continue to support in solving these and other related issues, largely by sharing the United States' vast knowledge and experience concerning entrepreneurship and Early Stage Investment Markets with the Commission.
In May 2014, the President of the European Commission, Jean-Claude Juncker, stated, "the internet and digital communications can transform our economies as profoundly as the steam engine did in the 18th century or electricity did in the 19th century." Anthony Gardner believes that the digital cloud, Internet of Things and big data can thrive in Europe – offering an opportunity for entrepreneurs, citizens and businesses to take full advantage of their potential. But to truly maximise these opportunities and be an innovation driver, rather than innovation observer, Europe needs to establish incentives for investment and scaling up.
Private capital needs to be harnessed, billions or Euros currently sitting in pension funds and on corporate balance sheets are waiting to be deployed if attractive frameworks can be enacted. While the US government believes government investment can play a small part to catalyse markets, this should not distract anyone from the more important task of improving the climate for private investors.
"Governments can best help by setting a regulatory framework in which innovation can thrive" – some of the ways Anthony Gardner says the US sees this improving in European Early Stage Investment Markets in future years will be through, easing access to debt and equity capital by small businesses; enhancing the liquidity of capital markets; amending bankruptcy codes to enable a second chance for honest entrepreneurs; and promoting pan-European funds and fund-of-funds.
"The world needs new ideas and people
willing to take the risk to turn ideas
into reality – to solve pressing social,
economic and political challenges."
The US wants to see entrepreneurship thrive around the world. Anthony Gardner explains why, "the world needs new ideas and people willing to take the risk to turn ideas into reality – to solve pressing social, economic and political challenges". Sharing the successes of US technology hubs, Silicon Valley, universities, liquid capital markets and the American spirit of free enterprise is one of the ways the US seeks to improve entrepreneurship and Early Stage Investment markets. The philosophy that underlines this attitude is that the more open a country is to new ideas, the faster it will grow; the more stable it will be; and the better partner it can be to the United States.
As a former Private Equity investor, Anthony Gardner is a senior US diplomat with considerable marketplace insight contributing to – and watching closely – developments at the European Commission. He challenges all stakeholders in the Early Stage Investment Markets to take hold of "the opportunity and responsibility to push for positive regulatory changes; and, to convince the bureaucrats to unleash the market forces that will drive the growth, innovation and competitiveness upon which our future depends." For hundreds of years Istanbul has been at the heart of East-West relations – a place of trade, where ideologies collide and novel ideas can be stimulated. The World Business Angels Investment Forum will have a far reaching legacy if, by harnessing some of some of this energy, it contributes to advancing regulatory framework conversations for the Early Stage Investment Market.