Azerbaijan's State University of Economics (UNEC), the biggest in the South Caucasus, positions its academic curricula in global education, signing an academic partnership agreement with the WBAF.
(Baku) Entrepreneurship education has come a long way in the past two decades. The mindset of students of entrepreneurship has also changed and will surely continue to evolve. More and more business organizations are adopting an entrepreneurial spirit. Even conservative firms are making it their mission to augment their entrepreneurial energies and promote a culture of creativity and innovation. With this in mind, universities started revisiting their business curricula and adapting them to meet the needs of current and future entrepreneurial ecosystems.
One of these universities is Azerbaijan's State University of Economics (UNEC), a public university located in Baku. Founded in 1930, it is now one of the biggest educational institutions in the South Caucasus, hosting 14 faculties, 18,500 students, and offering master's programs in 57 specialties. It has a teaching staff of more than 1,000, including 62 professors and 344 docents, among whom there are active members of the Azerbaijan National Academy of Sciences, and the New York Academy of Sciences, winners of state awards, along with honoured teachers and scientists.
One of the biggest educational institutions in the South Caucasus
UNEC is a full member of the European University Association, the Federation of the Universities of the Islamic World, the University Council of the Organization of the Black Sea Economic Cooperation, and the Eurasian Association of Universities. Foreign student enrolment in undergraduate and graduate courses at UNEC is about 3.5% of the total student population.
Heydar Aliyev, former president and national leader of the Azerbaijan Republic; Suzanne Mubarak, former First Lady of the Arab Republic of Egypt; Konstantinos Stephanopoulos, former President of Greece; and Erik Stark Maskin, Nobel Prize Laureate in Economics and Professor at Harvard University, have all accepted honorary doctorates from the UNEC.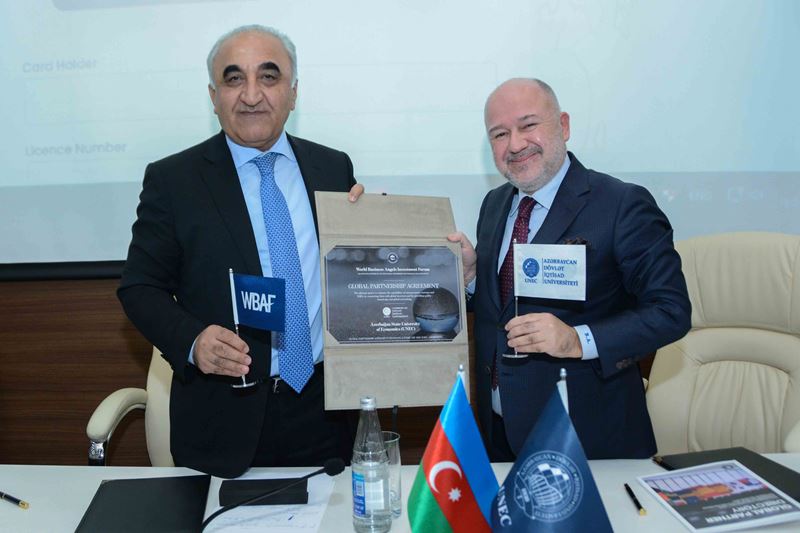 Academic partnership between WBAF and UNEC
Now UNEC has taken a strategic step to turn the university into a regional hub of entrepreneurial education, by signing an academic partnership agreement with the World Business Angels Investment Forum – an affiliated partner of the G20 Global Partnership for Financial Inclusion (GPFI). The agreement was signed by Baybars Altuntas, Executive Chairman of the World Business Angels Investment Forum (WBAF), and Prof. Adalat Muradov, Rector of the Azerbaijan State University of Economics (UNEC), at a ceremony at the university auditorium with the participation of prominent business figures, faculty members, and startup founders that have been incubated at the university.
With this agreement:
• All students and faculty members at UNEC will have the opportunity to benefit from the WBAF Financial Inclusion Center for global networking, quality mentorship, and smart finance.
• The engagement of UNEC with WBAF will open the way for U-BAN (UNEC Business Angel Network), which will ease access to finance for startups in the University's entrepreneurship club and center and close the finance gap for commercialising faculty members' research projects.
• The entrepreneurship center and club at the university will become official partners in the World Business Angel Investors Week 2023, which is coordinated globally by WBAF and celebrated every year in 132 countries.
• Faculty members at the University will have an opportunity to use the WBAF Financial Inclusion Center to deliver global educational courses on entrepreneurship, innovation, digital economies, and business transformation.
• WBAF will also support incubation programmes running at the university.
• UNEC will translate WBAF Publication House books into Azeri.
• UNEC will host WBAF's QBAC+ Qualified Angel Investors Course with a Proficiency Test and a mini-MBA programme on angel investment.
Angel investment is booming around the world
Consider the various sources of finance available to young entrepreneurs: Beyond basic bootstrapping, there are corporate ventures, angel investors, crowdfunding platforms, accelerators, VCs, banks, public grants, co-investment funds, business plan competitions, technology transfer offices, family offices, private equity investors, and stock exchanges. With the notable exception of angel investors, all these sources provide only money, nothing more.
The only true sources of smart finance are angel investors, who are able to influence a country's economic development by providing more than just money to entrepreneurs and SMEs. They contribute their own know-how, provide mentorship, and share their networks with the businesses they invest in. They are thus the main drivers of innovation and the natural leaders of the world's early-stage investment markets.
Angel investors have begun taking a key role in financing young entrepreneurs and startup ventures. In 2021 alone, 320,000 angel investors invested 9.6 billion EUR in startup ventures, and in the United States and Canada, 340,000 angel investors invested 26 billion USD in startups. Angel investors are different from other investors: they provide more than just money to young entrepreneurs and startup businesses. They also provide smart finance (a bundle of money), mentorship, networking, and know-how.
Mini-MBA in Angel Investment
Surveys reveal that entrepreneurs are able to create more success stories if they receive investment from qualified angel investors. Educating angel investors has therefore become a worldwide trend that aims to enhance their contribution to the startups they invest in.
WBAF is the only institution in the world that delivers a special training course for potential angel investors: the QBAC+ Qualified Angel Investor Certification Course with a Proficiency Test.
WBAF will now deliver the world's first mini-MBA programme in cooperation with the Azerbaijan State University. The programme will be a hybrid programme open to participants from around the world. WBAF Business School faculty members from Singapore, the U.S., the UK, and Silicon Valley will join classes in person and online. Successful participants will be awarded a joint diploma for an MBA in Angel Investment by the WBAF and UNEC. Online registration will open soon.